About Black Liberated Arts Center Incorporated
Fixed in perpetuity, the Black Liberated Arts Center Inc., began as an idea of Dr. John L. Smith Jr. A distinguished Principal Tubist with the Oklahoma City Orchestra and music educator at Langston University, who wrestled with the problem of African Americans expressing themselves about their identity during the time when arts were taken out of the schools. Dr. Smith enlisted the help of Dr. Alfred Cohran, Olen Nalley, William Franklin, and Bettye Beatty Wilson to move forward with the idea of using the arts as a means of self-expression. Dr. Smith's idea would soon become a compass for the Black Liberated Arts Center's mission.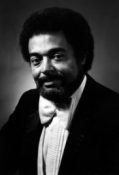 "to use the vehicle of fine arts to provide the total community of Oklahoma with an exposure to African, Africa-American/Black culture with a special emphasis on educating Oklahoma youths"
BLAC Inc. reached its 50th year longevity as an organization and continues to live up to its mission by providing an annual season of performing arts in music, dance, theater, and an international music festival. BLAC, Inc. is noted for its strong and vibrant arts education programs and the Charlie Christian International Music Festival. BLAC, Inc. has also became a keeper of the cultural history of African Americans in Oklahoma City, especially the music history. Among its artistic goals, BLAC, Inc.'s vision for 2021 is to:
Make a difference in the community using Arts and Arts Education.
Incorporate community awareness of the Arts, greater participation in events.
Raise national awareness of Oklahoma musicians.
Establish: (1) One Million dollar Endowment; (2) Facility for education and historical roots of Oklahoma City's jazz and visual artists; (3) Violence Prevention through after school programs/Arts;  (4) African American Performing Arts Center; showcase community talent; and (5) a weekly TV programs.
On April 29, 1971, BLAC, Inc. was establish as a presenting  501(c)3 fine arts non-profit organization. Over the years, the center has evolved into a multi-disciplinary presenting organization that also provides arts programs and projects to Senior Citizens Centers and Adult Day Care Centers serving aging and disabled people and handicapped youth who do not fit into a regular classroom. These programs and projects encompass all arts genres that includes arts workshops and conferences. 
Living up to its mission, BLAC, Inc. provides an extraordinary range of high-quality Arts and Culture programs and projects to help Oklahoma's youths to identify their cultural roots and discover their creative uniqueness. Currently, BLAC, Inc. celebrates 23 years as a member of the John F. Kennedy Center of the Performing Arts' Partners in Education national network. BLAC, Inc. and the Oklahoma City Public Schools were the first to bring Arts Integration Training, STEM, and STEAM programs to Oklahoma. Through BLAC Inc.'s arts education programs, tens of thousands of classroom teachers have been trained and thousands of children have benefitted from arts programs.
BLAC, Inc. has also created new opportunities for African, African-American/Black  artists to thrive through its annual season programs and its  'Charlie Christian International Music Festival,' in honor of Oklahoma icon, Charlie Christian. Christian is, now, in every major music Hall of Fame because of 24 years of effort by this organization. He was inducted into the Oklahoma Hall of Fame in 2018. Other Halls of Fame include Jazz at Lincoln Center, the Rock & Roll Hall of Fame, among others in Oklahoma.
BLAC, Inc. has also taken extensive measures in preserving the music heritage in Oklahoma City through the Deep Deuce Jazz Festival and providing research and photos to the Ken Burns' PBS series "Jazz in America".
On June 29, 2020, BLAC, Inc. received its Not-For-Profit Perpetuity Certificate from the State of Oklahoma's, Office of the Secretary of State. BLAC, Inc., its' body of work, and its Executive Director (Anita G. Arnold) are recipients of many local, state, and national awards and international recognition.